Madonna to wear burka in concert; changes name to "Mohammed" (HUMOR)
Begin Humor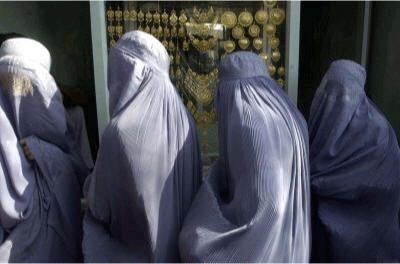 PHOTO CAPTION: Rock music star Madonna (above; left) and backup singers (above; center and right) perform the entire concert in burkas in this photo shot of Madonna's 'Reinvention Tour's' opening performance.
According to this
Reuters article
, "material girl" Madonna has decided to convert to the strict Taliban form of Islam. "I tried converting to Judaism from Catholicism for my 'Reinvention Tour,' but people just weren't shocked enough anymore. So now I'm trying to convert to the strict Taliban religion -- I think that will really shock people, and I'll make tons of money," said Madonna.
Rock musician Madonna has also said she will soon change her name to "Mohammed." "I just liked the energy associated with a different name," said Madonna.
"Material girl" Madonna has traditionally made her living by constantly reinventing herself. The title of rock star Madonna's current concert tour, the 'Reinvention Tour', pays hommage to this reputation. Everytime the public thinks it knows or understands Madonna, Madonna grabs headlines by doing something new, unexpected, and completely different. Experts said it was only a matter of time before Madonna would embrace Taliban Islam. "Taliban Islam is the last religion the public would expect Madonna to adopt. So, naturally, it was only a matter of time before Madonna would take it up" said expert Madonna watcher John Q. Doe.
According to expert
Bernard Lewis
, converting from Islam to another religion is considered apotosy, punishable by death in men and flo
gging
and life imprisonment in women. Although Madonna has only recently converted to Islam, there is an expectation that Madonna will eventually renounce the religon as part of her next "reinvention." In response to Madonna's new performance in the burka, an Islamic group has commented: "Madonna basically acts like a man. Under Taliban Islam, women are not allowed to work or earn money. Material girl Madonna's donning of the burka constitutes apotasy. Madonna has said she was born with a man's member in her brain, so we are giving Madonna a man's penalty for apotasy -- we are putting a reward on Madonna's head. We have issued a Fatwa on our website that concludes that Madonna is really a man. De
ath to
Madonna!"
Rock music star Madonna/Madge/Esther/Mohammed insists she won't be deterred by death threats from fringe Islamic groups. "I cried all the way to the bank when I heard about the de
ath th
reats. Islam is my new religion now," said Madonna.
The Taliban considers the music of all cultures deeply sinful because they cannot control political messages that might be embedded in the artworks. "Oh, Madonna just hasn't quite fully converted over to the Taliban yet." Madonna's publicist said when asked why Madonna had not yet given up her art. "Madonna's still working on getting everything right."
End Humor
During one of her concerts, Madonna urged the audience to see
Michael Moore's new anti-Bush film, Fahrenheit 9/11
. She said she cried after seeing a preview, and praised Moore's courage in taking on such a controverisal topic (related article:
Michael Moore receiving death threats
).
Dear Free World
related humor:
"Babe Photo Wars" move into politics (humor)
bin Laden threatens 'beheading video' pirates with beheading (HUMOR)
WANTED: Gay Muslim Fundamentalist Extremist for blog Interview/Debate(HUMOR)
al Qaeda chief backs Bush/Cheney in statement (humor)
Other blogs covering the serious side of this story:
iBLOGthere4iM: Madonna becomes 'Esther'
freeform goodness: Madonna Changes Her Name to Esther
Wizbang: The Immaterial Girl [Madonna]
World of Wonder: Puddintane [Madonna]
Superflicious: well, at least it's pronouncable [Madonna/Esther story]
whiterose: "This is the Big One, Elizabeth!"
socialite life: Nibbly Things: J Lo's Flip-Flops, Madonna = Esther, Janice Dickinson's B----- & More
Dawnsinger: Madonna's Kaballah [Madonna changes name for 'Reinvention Tour']
Adam Curry's Weblog (weblog partially in Dutch language): madonna bij ps
Mark-The Carlisle Cockney: Another Pop Star [Madonna] Goes F------ Crazy!