Lapel-pins versus exclusive clubs (contrasting styles of political fund-raising)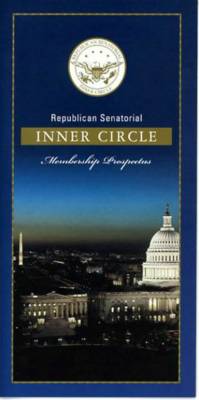 "Exclusive" Inner Circle nomination for us war-profiteers

In an obvious fit of temporary insanity, the Republicans "nominated" me to join an "exclusive" club (price: $2500) that would let me hob-nob with fellow war profiteers from "around the country" in three D.C. dinners and receive personalized excuses for why the Republicans will ignore all of my suggestions.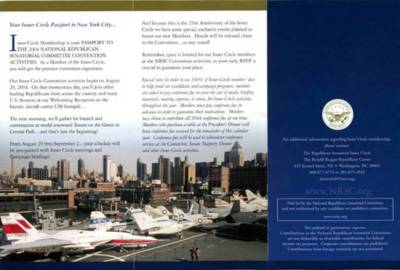 Oh Welcome Defense Contractors!

More brochure photos:

The Benefits of Membership!

This "high honor" reserved for only "a few deserving Americans each year" like ME (ha ha!)

"A Place of Honor Has been Reserved for You" Oh War Profiteer



For $25 the Democrats will give me a lapel pin or bumper sticker

The Democrats (or at least the Kerry campaign), with their $25.00 lapel pins and bumper stickers, claim to have outraised the Republicans, with $2500 exclusive club membership for the last four months, supposedly. Go figure.
If you wanted in to the exclusive $2500 "Inner Circle" club to hob-nob with your fellow defense contractors and war-profiteers, I'm afraid it is too late for the July dinner in DC that was part of it. And, you have to have had an invite, like ME, to be able to join the supposedly exclusive (ha ha!) Inner Circle club, so if you didn't get one in the mail, or needed the $2500 to put food on the table or pay for your kids colege, you are out of luck! I'm sure they'll still take your $2500 checks, though, but don't expect a refund if (as now seems increasingly more likely with the latest polls) Bush loses in November.